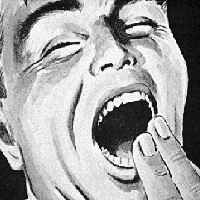 Radio Program 2MBS-FM 1996-97
A two hour live radio program of illogic, hyperthesis and crackpot ideologies for the non-linear mind. An Ambient environmental soundscape mixed with a large component of spoken word (poetry, rants, instructions, tirades, manifestos, theories, cut-ups) forming a psuedo-documentary of intense immersion therapy and colliding contextual fields - mixed live from a variety of sources including tape, vinyl, CD, samples, synths and mellotron.
The program consists of a continuous uninterrupted soundscape . - encompasing a different theme each time - eg, outer-space, miscommunications, submarines, hypnotism, nightmares, biological mistakes, robots, religion, LSD, stereo.